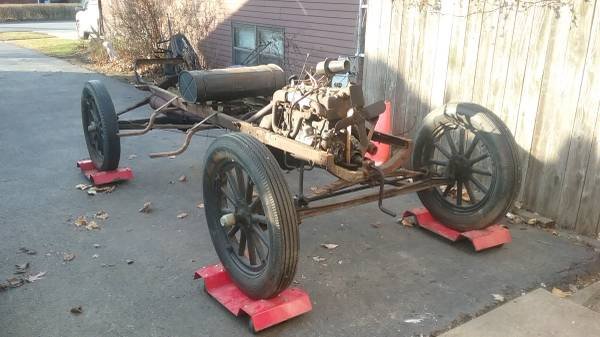 I have a nice FULL chassis from a 1925 Tall Coupe.
Frame is nice and straight, no rust rot, no repairs done or needed. Everything was working including the trans, engine rear ect.
What you see is what you get. NO BODY, NO TITLE.
I can include other parts… Brand New 6 volt battery,Full steering column, Shifter /lever/handle, Buzz box w/ coils, Radiator w/ cap, Wooden floor Boards, Dash w/Gauges, extra Tire & Wheel, Seats, Jack and a few misc parts.
AGAIN,
Everything is there minus the Full Body, Fenders, Running boards, Hood, Front Head Lights, Radiator Surround or shroud and Title.
Might part out but looking to move as is with the above extras not seen.
Cash offers?