Looks terrific. Give us some background … is this cab correct
to a truck you own ? Are colors original ? Is there a backstory, like
a business ownership that ordered the truck this way ?
What woods did you use ? My steel cab is a rattle cage of creaks
and groans. Did you take measures to really keep this cab from
breaking itself loose at all the joints from use ?
More photos !

A friend has a wooden cab truck of unknown pedigree built on a T rather than a TT chassis which bears a strong resemblance to yours.
The big difference is that his cab has sliding, or sort of pocket, doors. Have you ever come across any indication(s) that M-P built such a cab ?
Here's a photo of the truck. It's not the greatest shot but I think you can see what I'm saying about the doors. It had a two piece windshield like yours but it's been modified into a one piece swing in or out affair.
Regards, Tom in Taylor Mill. KY 41015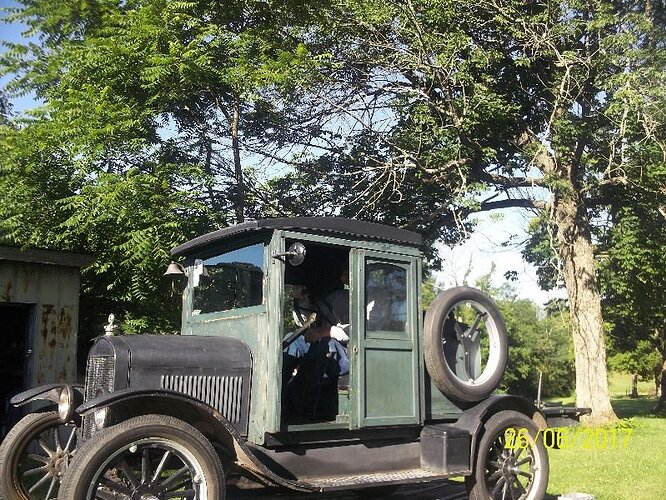 Tom, this cab is built using an existing MP cab as a pattern. The wood was pretty bad and missing a few parts. Lucky I found a guy that has the same cab as mine. He has had it 45 years and has done alot of research. He sent drawings and measurements of things I was missing. The hardware" handles,hinges and brackets were the hardest to find. It is constructed of poplar as was the original. All fasteners are correct" screws,bolts And nuts. All is built with mortis and tennon as original. No glue or phillips screws. I spent hours digging in cans of old screws to find correct sizes and carriage bolts without numbers cast into the head. Square nuts and 1/4 inch lags with a 3/8 square head. The mortis and tennon construction with one screw in the center of that connection lets the joint flex and pivot on the screw and not split the wood as it would with two screws in the same joint. Martin Parry did make cabs with sliding doors. If you go to Martin Parry .com you can search catologs of different years and it shows all the styles of cabs and bodies. The arch top window behind the door is a MP thing. They were built in Indianapolis. The paint color is what I found under the glass and behind one door hinge. It also is close to color in MP catalog for my cab. My cab when I got it was a pile of wood laying on the cassis. It was painted black and red. The windshield hinges and a few bolts were all the hardware that was left. One door ,the floor and back of cab was missing. I started rebuilding it in June 2017.