The cowboy looking at the 10 millionth Model T looks like William S.Hart. He was a big star in the silent movie era. The building in the background looks like part of his home here in Santa Clarita, CA. His ranch is now a park and museum. I've visited there many times. A lot of interesting history to see.
Winner! William S Hart was the best of all the cowboys in the silent film era. I need to visit his ranch next time I go to California. Thank you! Here's another picture of Mr. Hart with Charlie Mack on the left: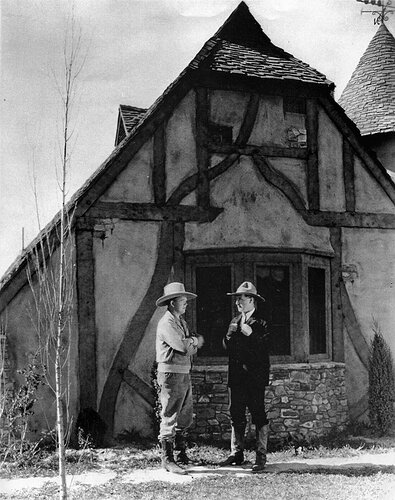 Mr. Mack's house is just down the road from Mr. Hart's ranch on 8th Street in old Newhall (that may be Mack's house in the photo with Hart). The house is still standing today. W.C. Fields lived in the house after Mack passed away in 1934.
Just a little extra trivia.